Jaakko Heikinheimo is an artist, curator and architect.
WRITE ME A LOVE LETTER, SEND ME ANYTHING
Write me a love letter, send me anything reflects on complex topics such as love, anonymity, individualism, dating & geosocial networking cultures, hope, anti-automatisation, postal services, giving & getting, tactility, smell, tracking, space & time, vernacularity, uncertainty, timelessness, eternity, order and delivery platforms, dreaming, excitement, risk-taking, communication, globalisation, logistics, environmental aesthetics, loneliness, togetherness and cure as curating.
Notes being attached to: Paris, New York, Virkkala, Berlin, Los Angeles, Stockholm, St. Petersbourg, Tallinn, Geneve, Genova, Savona, Milano, Ajaccio, Bastia, Calvi, Parma, Weimar, Riga, Berlin, Jaun, Helsinki, Santa Cruz de Tenerife, Mallorca and Reykjavik.​​​​​​​​​​​​​​
Received letters & packages from: London, Paris, Mallorca, Geneve, Geneva, Savona, Ajaccio, Milano, Weimar, Riga, Vilnus, Helsinki, St. Petersbourg, Fukui
THEREAFTER THEY SHAPE US
''We shape our buildings, thereafter they shape us''
-Winston Churchill
Thereafter they shape us is a series of five installations, being formed from three blocks in each arrangement. From horses excrements to San Pedro Cacti and dried cod, it brings one to a play with a wide section of different undergoes.
It is a distant reference to Alfred Hitchcock's Psycho and the slightly outdated concept of the unconscious by Freud. Regarding the interpretations of the Slovenian philosopher, Slavoj Zizek, The ID, The Ego and the Super Ego are the ongoing themes on the floors, seen in the mansion of the movie. Be that as it may, Therefore they shape us is a set for its viewer as a game, without no conclusion or a final thought.
Materials
Hair, soil, dust, aluminium, cow meat, codfish, horse excrement, plastic, San Pedro cacti, clove(flower), violet(flower), ash, concrete, bullet (copper).
Gallery Exhibition lab, Helsinki. 2018
The darkside of sunsets or the ambiguity of a sunset seen from a shelter in the dust, rain, fire, flood, ect.
Lea Wittich & Jaakko Heikinheimo
2021, Gallery Aarni. As part of the group exhibition: (un)seen, in the dazzle of infrastructure.
Artists, curators, contributors:
Kirsi-Maria Raunio, Onerva Heikka, Miklas Hoggard, Ronya Hirsma, Amanda Ripatti, Anna Kozonina, Ya-Yu Tseng, Lea Wittich, Jaakko Heikinheimo, Maikki Siuko, Ya-Yu Tseng, Petra Aaltola, Sara Blosseville, Outimaija Hakala, Jonna Halli, Heidi Holmström, Eeva, Ala Leresteux, Liisa-Irmelen Liwata, Rasmus Mäkelä, Aarin Purple, Emma Sarpaniemi, Maija Annikki Savolainen, Ferdinand Waas, Patrizia Constantin, Bassam El Baroni.
The way we perceive the beauty of our environment can be understood as a combination of a physical phenomena and an assessment of them under moral aspects. The transformation of the blue day sky to a deeply red one in the evening seems to be a sublime phenomenon of sunlight through molecules in the earth's atmosphere and explains the colors of the sky. Knowing that different aerosols carrying more or less harmful substances can enhance the red colors of the sunset sheds a different light on the beauty of the illuminated sky.
Smog is formed out of various substances floating in the layers of our atmosphere. This misty phenomenon also known as pea soup or black fog does not only take our breath away metaphorically and literally, it also affects our infrastructure as for example the efficiency of solar power. Nevertheless efficiency is not the only parameter that comes into account in dealing with these unforseen challenges. Isn't that the productive but hedonistic human nature; the urge to erect ivory towers in the haze?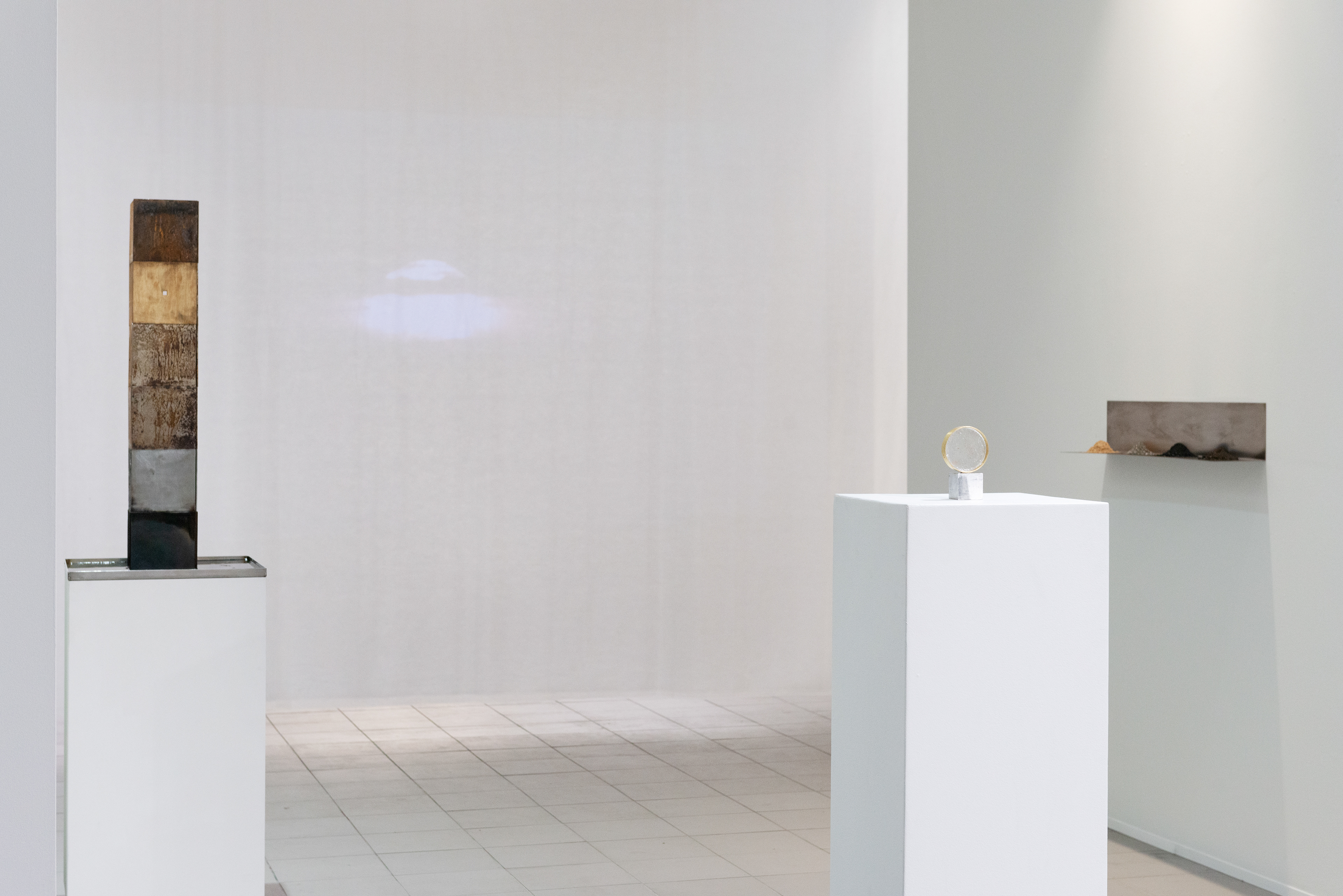 First I take a picture of myself. Then I transfer the picture of myself to my computer. I split it exactly from the middle, then I mirror it. I adjust the two pieces together. I bring an old printer home, with some plastic, transparent sheets. I print the picture of myself to one of them. I colour the sheet carefully and I add a hole in the middle so that I can breath. I adjust the mask on me, so it fits my face perfectly. Then again, I take a picture of myself. I transfer the picture to my computer, again. I open it and then, I adjust its symmetry. I work on the colors so that they please my eyes. I send the picture to a company where they do postcards. I order the postcard, with my picture on the cover to myself. When I finally have it, I fill those gaps, just the way I want, just the way it's suppose to look like. I take the card with me and walk to the nearest post box, which is further away than I thought. I drop it in. I wait, that the card comes back to me. When it finally comes, I take a picture of it, then I publish it.
Materials: Cardboard, tape, stamps (glue&paper), plastic, acrylics
TWO STUDIES FROM MY FATHER'S EAR.
Ear I. Reproduction of my father's ear. Painted pinewood. 2017
Ear II. Reproduction of my father's ear. Bronze. 2020